Do you want to pay someone to do your PICOT paper for a nursing class?
Assignments requiring a  PICO format (or PICOT) can be challenging. They are usually 5-7 pages long; but can be as long as 15 pages depending on requirements set by your college. They definitely take time to write and can require advanced skills. Worry no more as Instant Grades has o

ver 200+ nursing essay writing experts

who you can pay to do your PICOT assignment. Need help?

You can pay the best PICOT question assignment help experts to write your paper!
Contact us on Whatsapp to get help with your assignment in as little as 3 hours! 

Why are the best nursing essay writing service?
Instant Grades is the best nursing essay writing service because we write plagiarism free assignments that are guaranteed to score excellent grades – A+ or B minimum (or money back!) and are delivered within your deadline. Moreover, you can get an essay done in as little as 3 hrs!
Why do students need help with PICO assignments?
Composing PICOT questions is a skill that is frequently tested in nursing. This is an area  that countless nursing students struggle with. Below are 3 reasons why BSN, MSN, and DNP students must do PICOT assignments:
Reason 1: To Pass a Nursing Class

In order to meet nursing college requirements set for a student to attain a Bachelor of Science in Nursing (BSN), Master of Science in Nursing (MSN), or Doctor of Nursing Practice (DNP), students must tackle an assignment requiring them to use a PICO or PICOT format. Students must attain an excellent grade in this assignment – A or at least a "Pass."

Reason 2: Mastering Core Outcomes

Successfully completing (and passing) a PICOT assignment implies that the student has mastered the set course outcomes (COs) or learning objectives (LOs) stipulated under the course syllabus in a nursing class.

Reason 3: Demonstrate an Ability to do Credible Research

Passing a PICOT assignment/nursing class implies that the BSN/MSN/DNP nursing candidate is now sufficiently knowledgeable and well-equipped to formulate research questions and conduct research/ a study based on the best advanced nursing practices such as evidence-based practice. 
What does PICOT stand for?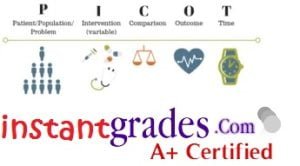 PICOT is an abbreviation for a term that stands for population (P), intervention (I), control (C), outcome (O), and time frame (T) (Riva et al., 2012).
A PICOT question consists of the following components:
Population/Patient

What or who is the patient, population, or issue at hand?

Intervention

What is the proposed intervention (action or treatment)?

Control

What additional interventions should be contemplated?

Outcome

What is the anticipated, or desired outcome or objective?

Time frame

How long would it take to accomplish the objective?
PICOT Question Format
Picot Questions are generally formulated in the format below:
In _________ (P), how does _________ (I) compared to _________(C) affect _______(O) within _______ (T)?
or:
Are ______(P) who have ______(I) in comparison to _______(C) at ________ risk for/of _______ (O) over ________(T)?
Typically, the PICOT process begins with a broad clinical question. Each step of the process contributes to the development of a well-structured question. Once a research question is established, researchers can begin looking for evidence that will aid in answering the question.
It is critical to have a firm grasp on what the components of a PICOT question is before you can begin writing your paper. Whether completing advanced nursing studies or operating in a professional healthcare context, registered nurses (RNs) initiate their research queries with an evidence-based practice model created from a well-crafted PICOT question. In summary, PICOT starts with a case situation, and the question is defined in such a way that it elicits an answer.
PICOT vs. Nursing Research Paper
Though structurally different, PICOT nursing papers are very similar to research papers done in a nursing course or class. They both require a student to formulate a research question, conduct a study based on a particular format, draw outcomes, and formulate recommendations.
Nonetheless, a PICOT paper follows the PICOT format. This format requires a student to formulate a clinical question and then come up with desired outcomes within a set time frame. On the other hand, a nursing research paper requires a student to come up with a research question, formulate a thesis statement, and then conduct an analysis or study that validates or negates the thesis statement.
How to write a Nursing PICOT Question
When formulate a PICOT question that will get an excellent grade, students must answer several questions under each category. These categories are: population, intervention, control, outcome, and time-frame. Once these questions are answered, the student should then write an all-inclusive statement like in the example below:
In _______ (P), how does ________ (I) compared to ________ (C) influence _________ (O) over _________ (T)?
Below is what to include in each category.
Question to Answer under Patient/Population (P) in PICOT
Nursing students should answer the question below when defining the population in a PICOT question:
    What is the population/patient? – Defines demographics such as age, race, age etc.
Question to Answer under Intervention (I) in PICOT
Nursing students should answer the question below when defining the intervention (I) strategy in a PICOT question:
    What is the intervention measures ,or management strategy, or treatment plan, or care plan, or diagnosis under consideration?
Question to Answer under Control (C) in PICOT
Nursing students should answer the question below when defining the control section in a PICOT question:
    What is the alternative intervention measure to the one you mentioned under (I) above?
Question to Answer under Outcome (O) in PICOT
Nursing students should answer the question below when defining the outcome section in a PICOT question:
    What is the objective or outcome that you desire to achieve?
Questions to Answer under Time-Frame (T) in PICOT
Nursing students should answer one of the following questions below when defining the time frame in a PICOT question:
    What how much time will it take to achieve the desired outcome?

    Which time periods should the study consider?
Tips on How to Write an Excellent PICOT Question – A+
When nursing students create a PICOT question, they must create a question that has a study significance or has the potential to contribute to significant research . Below are 7 tips to consider when writing an excellent PICOT question:
State the PICOT question succinctly.

Identify details to include under each PICOT question category.

Develop a search strategy: Using the question as a guide, a student then determines which database systems and other search engines to consult in order to gather information and answers. To maximize their search terms, researchers employ strategies including using synonyms and expressions that mean the same thing. Important libraries and databases to search for sources/relevant published material are EBSCOHealth, Medline, PubMed, and CINAHL. You can find more libraries here.

Conduct a search: Researchers begin by searching each PICOT component individually.

Narrow the findings: Confine the query results by excluding works with irrelevant content.

Conduct a content review: Conduct a content review of the research findings to determine if they contain sufficient information to address the PICOT question.

Establish whether research findings follow advanced nursing practice guidelines. Remember you are writing a PICOT question for a paper for the award of a MSN or DNP degree. As such, it needs to be of high-quality and significant enough to contribute to research. After reviewing the research findings, ascertain whether they give the best current evidence available.
Tips on Writing the PICOT Paper
Tip 1: Formulate a good PICOT question in order to have an easier time doing a literature review.

Using the PICOT method enables the development of a careful and thoughtful question, which facilitates the search for evidence. A well-framed question makes it relatively simple to evoke and incorporate the terms necessary to show the information need in the query language of whatever search service is accessible.
The question should specify the patient or population to be studied, the treatment to be used, a contrast of one treatment to another where applicable, and the anticipated results. After developing a well-structured question, students will be best prepared to conduct a literature review for evidence supporting their previous PICOT question. Understanding how to formulate a complete PICOT question is critical for RNs enrolled in a doctor of nursing practice (DNP) program.

Tip 2: Use Peer-Reviewed Sources.

For most nursing students, the process of locating significant and the best available clinical evidence can be overwhelming. Ensure that you use credible sources such as peer-reviewed journals and other scholarly academic material in formulating major materials, providing supporting evidence or data, and reference any section of your paper. You will need to add an in-text citation for each source used. Ensure that there is a corresponding entry in your bibliography/reference page.

Tip 3: Consider the type of research for your PICOT paper.

Once you have constructed the question through the PICOT format, you can consider the nature of the question and, consequently, the type of research that would give the correct response.
After developing and researching the PICOT question, find the most suitable type of study. Meta-analysis, critical appraisal, randomized controlled trial, longitudinal design, case analysis, and systematic review are all types of studies applicable for evaluation in a PICOT paper.

Tip 4: Write your Paper Section-by-Section.

Writing a PICOT paper section-by-section has been explained under another heading here. This is very important as it allows you to flow systematically from one section to another. In addition, it enables a student to allocate sufficient time for each section and meet the deadline for submission.
Moreover, writing a paper section-by-section enables a student to place greater emphasis on sections that have more weight and carry more points as stipulated in your grading criteria in the rubric. By scoring maximum points in these sections, students are a step closer towards getting an excellent grade in their PICOT paper.

Tip 5: Proofread and Edit your Draft Severally

Once you finish writing a draft, proofread your paper in order to edit out grammatical and syntax errors. Moreover, ensure that the content is at par with your course outcomes or learning objectives and meets advanced nursing practice guidelines.
Once done with editing out these errors, run your paper through a plagiarism checker before submitting it in order to ensure that it is plagiarism-free.

Tip 6: Include an Evidence Table in your Appendix Section

As we have stated earlier, PICOT papers are like any other nursing research papers except for the format. They are usually evidence-based. Therefore, you will need an appendix section that includes tables, figures, or statistical data that supports your claims.
Ensure that every figure added in the appendices section is clearly labelled i.e. Fig 1.1 and a name next to it. You can add a short description for each
PICOT Paper Outline
A typical PICOT paper for a nursing class entails the following listed items in that order:
Title Page

Introduction

Problem Statement

PICOT Question

Population of Interest

Intervention of Interest

Comparison of Interest

Outcome of Interest

Timeframe

Project Planning

Organizational Support

Project Feasibility

Resources Needed

Evidence Summary

Conclusion

References Page

Appendices
How to Write PICOT Paper Section-by-Section
A PICOT paper has 9 sections that must be included in order to get an excellent grade in your nursing class. Below is what to include in each section.
Section 1: Title Page
As the name suggests, this is the first page of your PICOT paper. It includes details such as:
Title of the Paper

Your Name

Degree you are Pursuing

Your Institution

Your School/Faculty

Date Submitted

Any other requirements set under your nursing class syllabus 
Section 2: Introduction
The introduction section should in a clear and concise way communicate the objectives of writing the PICOT paper. In addition, it should include a statement of intent/purpose. Think of this as a thesis statement in a research paper. This section is usually awarded 5 points as per most grading criteria for nursing colleges.
Section 3: Problem Statement
This is a very important section as it usually carries 20 points or 13% of your points. In this section, a nursing student should discuss in detail the problem or issue they will be addressing in the paper.
In addition, in this section, students should incorporate relevant peer-reviewed sources as evidence supporting why you choose to investigate the issue and the significance of the study.
Tip 1: Describe the issue on a global scale/impacts of the research on the nursing field/community at large.
Tip 2: Describe the problem/issue at hand on a specific perspective i.e. in relation to your field of study.
Section 4: PICOT Question
This section usually carries 60 points. As such, place great emphasis on it if you are to get an excellent grade in this paper. It will also define the scope and direction of rest of your paper.
First state your selected and approved PICOT question in a single, concise, and clear statement. Refer to this guide in earlier sections on how to write an excellent PICOT question statement. Second, under each PICOT letter, use a heading and below it, write comprehensive information that meets the requirements required for your nursing class. Refer to this guide above.
Section 5: Project Planning
This section usually carries 30 points. An important part of a PICOT paper is that it includes a set timeframe. The project planning section is usually split into 3 sections:
Organizational Support –  This includes professionals and any other support you will receive when writing the paper.

Project Feasibility -In this part, you will describe how you intend to meet the set deadline for completing the paper. You should also state how feasible this set timeline is and any barriers that may hinder you from meeting this deadline.

Resource Requirements – MSN and DNP students need to define which resources they will need to complete writing the PICOT paper/study.
Section 6: Evidence Summary
Most colleges allocate 20 points to this section. Therefore, it carries significant weight and requires a lot of attention in order to score an excellent grade.
This sections serves in a similar capacity as a literature review. MSN and DNP students embarking on this project should find credible, peer-reviewed sources that serve as evidence for your research. Explore these sources critically and find evidence such as corresponding themes. In addition, students should evaluate correlation in data/evidence and discuss if this evidence is strong enough to imply/ suggest a need for further research or the need for implementation in your nursing specialty.
Tip: Any evidence used such as tables, figures, statistical data, graphs, or any other material must be included in the appendix section. 
Section 7: Conclusion
This is a brief section and usually carries 5 points. Start by summarizing the project's major points of analysis and the outcomes. Place emphasis on the findings.
Tip: Do not introduce new information, findings, data, or evidence in this section. 
Section 8: References
It goes without saying that all academic papers must be properly referenced. This ensures that students turn in a plagiarism-free assignment and pays homage to authors whose works you have referred to or used when preparing the PICOT essay.
Tips on how to write a references section for a PICOT paper:
List at least 8 peer-reviewed references in the bibliography section for your PICOT paper.

Refer to the formatting guidelines stipulated in your course syllabus or rubric for this nursing class and find out if the essay should be in APA, MLA, Harvard, Chicago, IEEE, or other format.

Sources cited should be listed in alphabetical order. Refer to our guides on referencing in any citation style if you need help or clarification.
Section 9: Appendices/Evidence 
On a new page under the references section, include an appendix. This section entails all evidence used in the PICOT paper such as images, figures, tables, tabulated statistical data, or photographs.
Tips on how to write an appendix section:
Label each image, table, photo, or figure appropriately i.e. Table 1.1 and include a title i.e. Table 1.1: Lateral Chest X-Ray.

Provide a short description for each item in (1) above.
What is the Importance of PICOT Questions?
PICOT questions aid in the conduct of evidence-based review and studies on various aspects of nursing. If you are an ambitious young healthcare professional, it is critical to constantly assess the state of the nursing profession and to be aware of relevant issues and patterns affecting care quality. By conducting research using PICOT questions, the student nurse can gain a better understanding of the field and the difficulties encountered when providing care to patients. This level of understanding is critical for implementing relevant changes in the sector that will help enhance the condition of healthcare for a large number of patients.

Another benefit of PICOT questions is that they assist nursing professionals in formulating new research questions in a systematic format; which is critical for generating the appropriate data for analysis in order to comprehend a particular phenomenon. These PICOT questions are then addressed by the student nurse via eventual quantitative research, which aids in the expansion of knowledge in a particular nursing specialty.
Related Content