Study and Do English Class Assignments Using a Timetable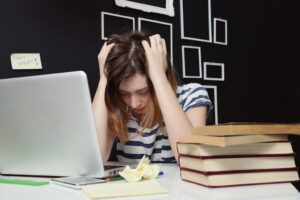 The best way for college students to do an online English class and score an A+ is to come up with a study routine that allocates time to study every day. Such a timetable should allocate enough time to read and comprehend all assigned reading materials and then do all assignments in any given week within the deadline set for submission as dictated in the online class portal. In addition, ESL learners and college students should start writing their essays and other assignments early.
For example, for an online class module with assignments due by the end of the week, students should start doing them on Wednesday and complete a draft by Friday of that week.
Hire an Online Writer for English Class Assignments
In order to hire an online essay writer, click on 'Order Now' and place your request. It takes as little as 3 minutes and costs as low as $12!
In order to chat with a proficient writer in your English coursework specialty, or place a request for an urgent custom-written essay, contact us via Whatsapp on +1(619)432-0944 now!
or c

ontact us on Whatsapp to order for an urgent, custom essay

 now:

Example of a Timetable for Studying Coursework in an Online English Class
Below are tips on what to include in an effective schedule when taking an online English class:
Monday – Tuesday: Set sufficient time to read all material including class texts.

Wednesday:  Complete initial discussion posts due by Thursday and start writing your end-of-week English assignment.

Thursday – Friday: First, complete all responses to other college students. Second, review your reading material and online class notes. Third, write an outline for your end-of-week English assignment. Fourth, complete a draft for your English assignment due Saturday or midnight Sunday.

Saturday: Proofread, edit, and check for plagiarism in your online English class assignment.

Sunday: For an assignment due by midnight Sunday, re-check your references and overall grammar to eliminate errors, and then submit by noon on Sunday.
Other Effective Study Tips for College Students
A number of other effective ways should be taken into consideration by college students when studying and doing assignments in an online English class. Below is a list:
Study in a quiet, distraction-free environment; Ensure that your study area is free of distractions such as kids, noise-makers, music, PlayStation, or sources of entertainment. Students need maximum concentration when studying.

Make short notes: Write short notes on fundamental points, concepts, and writing requirements for your college online English class assignments. You will need to refer to these notes when writing your gradable essays

Use flashcards: Write important concepts on flashcards and use these to jog your memory from time to time.

Write an outline and a draft: When you embark on writing your essay for an online English class, start by writing an outline that lists major points on content to include in your introduction, thesis statement, arguments for your body paragraphs, and closing statements. After writing a good outline, embark on writing a draft that expounds your major points using supporting material and references. Finally, edit your draft before submitting your completed college essay in order to eliminate grammatical errors and certify that the content meets the requirements set in your online class rubric for achieving maximum points in order to score an A+.
Related Content