Students must complete all tasks in their coursework in order to receive an excellent grade in their English classes. Written English essays are one of the most frequent assignments and carry a significant number of points. Therefore, passing with good grades in these essays helps students score a great overall grade in an online class.
College students find writing essays for an English class to be quite hard. Students who find these classes to be the most challenging are first-timers and ESL learners. Usually, they doubt their ability to write a high-quality essay that will score an A+.
Effective Tips for Students Writing Essays for an English Class
Below are the most effective tips which students should use in order to write an excellent essay for an English class. 
You will get a reading list when you enroll for an English course. It is important that you become familiar with it right away because your lecturers will pick texts from it that will aid you with your chores and assignments. This is an important English assignment idea because reading the items on your list will give you important new information on the subjects you need to write about. You'll find it to be more convenient when you need to write an assignment.
After doing your research, you should set up a writing timetable for your tasks. Maintain a strict routine. Additionally, double-check your deadline so that you won't have to experience stress when you notice that it is rapidly approaching. So that you may stay on top of your work, divide your time and responsibilities into more manageable portions. Create a timetable with several smaller deadlines. You'll stay positive if you know that a task has been finished.
Understand the requirements for your English Assignment
Make sure you comprehend your English task before beginning it because producing an essay that is incoherent or contains irrelevant information will prove harmful. Always be aware of what you're doing and the message you want to communicate. You can clarify your understanding of the requirements by reading the instructions again, if necessary. Additionally, you must decide how long the essay should be and how you will structure it.
Another crucial English assignment idea is note-taking. You must gather a variety of materials and resources related to your topic before you begin. As a guide, you should also draft an outline. Look over the numerous research sources, then jot down notes on the most important details you can use in your work. When you have all the data you require, writing will become easier to handle.
Your lecturer will provide you dates and instructions, in addition to possible resource recommendations. Sadly, a lot of students have a tendency to ignore this. You should look at your professor's rubric, for instance, to learn how they will score your assignment. Here is a chart that outlines everything you need to do. You will also gain knowledge of the goals or results of the assignments.
Reading lists, lecture recordings, discussion forums, and example completed English assignments are some other resources you might get. Typically, a learning management system (LMS) is an online platform where you may discover all of these resources (LMS). According to research, students who use LMS typically achieve superior grades. You can ask your lecturer any remaining queries either in person or online.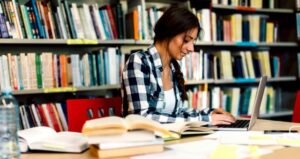 Source: Faculty Focus
Determine the Structure of your English Class Assignment
The next thing you must do for your assignments for English class is to specify the goals and organizational layout of your written work. Here is where the structure of an excellent assignment will become clear to you. You aim to make your writing appear outstanding to the reader. Incorporating more theoretical information and specifics into your essay is one approach to do this.
Make Sure All of Your Paragraphs Flow Smoothly
The information provided in the English class assignment you were given is insufficient. It's crucial to maintain your coherence. There must be connections between each paragraph.
This is an important assignment for English class idea because it will maintain the reader's interest in the information. In order to do this, you must revisit your assignment's plan and look for key ideas that can help you connect the paragraphs in a natural way. Here's an idea to help you with it: use phrases or words that will catch readers' attention while also adding context to your completed English assignment.
There are several difficulties in college life. One of these is completing English assignments that will call for more sophisticated forms of communication, critical thinking, and information collecting than you may have had to do in high school. Use the information you learned to make things simpler for yourself rather than letting your English assignments intimidate you.
A student should take advantage of the opportunity to choose the topic of their choice because doing so will spark their enthusiasm in writing thorough and interesting English assignments.
Do Thorough Research on The Subject
Following your selection of your English assignment topic, the next stage is to conduct research on it. To produce a successful assignment, use some trustworthy research resources, such as the internet, journals, libraries, and others.
Understand the Grammar Rules
It is the most important aspect of writing an English assignment. To produce a flawless English assignment, one needs to possess in-depth knowledge of grammar.
The structure you use when writing your homework is crucial. Your organization should be neat and appealing. You can get assistance from our English homework help services in the U.S. professionals if you are unsure of the format of your homework. They will give you full instructions.
It is a crucial component of the assignment, which comprises of topic briefs. Your introduction should be clear and simple for the reader to grasp.
Always make an effort to stay on topic. Never stray from your original topic to avoid confusing your readers.
After gathering pertinent data for your subject, assess your thoughts and create an assignment structure. Make sure the information you added is accurate and contributes to the effectiveness of your task.
The ideal time management would be to schedule your time around your entire workload. Planning your schedule according to the deadline for submission will be beneficial.
In your English class assignment, use straightforward language. It aids the reader's comprehension of your writing. Avoid using complex terms whenever possible because they occasionally produce confusion in the listener's thinking. So, make an effort to speak simply.
Proofread your assignment once you've finished it. Grammar, spelling, and linguistic mistakes can all be found in your assignment with the help of proofreading. Additionally, it will assist you in identifying any missing or insufficient information you may have included in your work. After that, update your work to remove all errors.
Deliver Your Assignment on Time
Make sure you submit your English homework by the due date. Most students fail to complete their assignments within the set deadline time. To avoid getting low grades ensure that you finish your English task before the deadline.
Hire a Professional English Assignment Helper
Among all the mentioned points this is the most vital English assignment idea. Most students prefer online English assignments help to get high-quality work that will help them succeed academically. If you believe you are having difficulties, you can seek the assistance of our English assignment help online services specialists to obtain distinct and superior English papers.
What to Avoid When doing your English Class Essay
Completing English assignments is a difficult task. You must pay close attention while composing your homework. Aside from that, you should have a thorough understanding and command of English grammar and terminology. We've covered some of the most common reasons students fail to finish their assignments on time. As a result, they seek Online homework English assignment assistance
There are many challenging, perplexing, and tricky themes in English assignments. Many students find it difficult to complete their tasks on their own. As a result, people prefer to seek expert assistance with English projects.
Some students might not have a large or diverse vocabulary. As a result of their lack of confidence in their vocabulary, writing skills, and grammar, they quit up before beginning their work. As a result, they request assistance with my English assignment.
Sentence Structure and Grammar
Every language has its own set of sentence structure and grammatical norms. Before you can structure sentences, you must first grasp grammatical rules. Begin with easy themes rather than complex ones.
Students need to have a thorough understanding of the subject and a strong vocabulary in order to create an excellent or outstanding English assignment. However, the majority of college students have ordinary research skills and a vocabulary. They are unable to produce a top-notch English assignment on their own because of a lack of sufficient knowledge. In such a situation, a student would rather employ a professional who can offer the greatest English assignment help.
One of the main reasons why most university students find it difficult to finish their English assignments on their own is a lack of time. As a result, students search for English assignment help online.